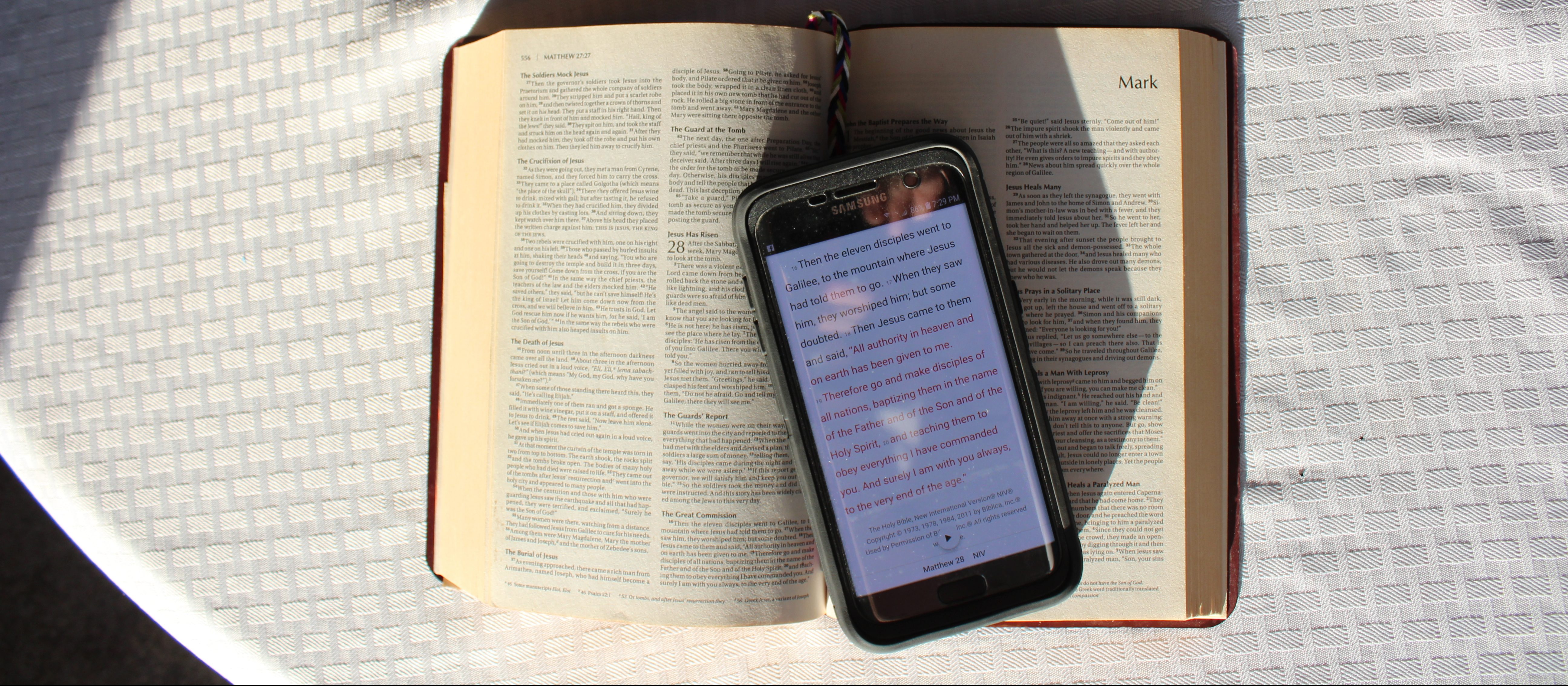 Interactive Online Bible Study
Interactive Online Bible Study
Connect to God's Word... Anywhere, Anytime!
Life can get busy and often it can be hard to squeeze in time for a traditional Bible study.  We've been there.  We understand.  Luckily, when life gets chaotic God always provides a way for you to connect to Him through His Word!
With our interactive online Bible study, you can connect to God's word every day while also taking part in quality discussions with people just like you!  We harness the power of the YouVersion Bible App (available on all smart devices) to bring you a wonderful Bible study every month!  If you have yet to dive into the world of smartphone technology, that's okay!  You can also be a part of the study on your home computer by going to Bible.com.  Access the study plan early as you start your day and be a part of the discussion any time you have a spare moment.  It is a great way to remain focused on the Lord throughout the day! 
We also encourage you to explore the other Bible studies available through the app.  Dive into God's Word with us through our interactive online Bible study and find the love and peace you've been longing in this busy world!
Dive Into God's Word With Us!
Join This Month's Interactive Online Bible Study!
Take Courage! Overcome Worry and Fear! Join Us for Two Online Studies in September
In a world where it feels like we are continually bombarded with negative news, worry and fear can swirl around us like a raging storm.  It can affect our moods, our interactions, our health… our very lives!  In this storm of anxiety, we can find comfort and safety in the love of Christ!
During the month of September, we invite you to join us for 2 online studies.  These studies will help to fill us with the power of the Holy Spirit, assist us in releasing us from our worry, provide comfort, and strengthen our faith.  Spanning a total of 21 days, these studies will be an important resource for you in a world filled with worry and fear.
We invite you to join us for this 21-day journey, which begins on Sunday, September 5th. To participate in our September online studies, follow the links below:
The online study can be accessed through the Bible App, which is a free resource. In addition to wonderful devotional/reading plans, it also provides a verse of the day, and you will be able to read the Bible in a wide variety of versions. It's available in your app store on your mobile device or accessible online at www.bible.com.