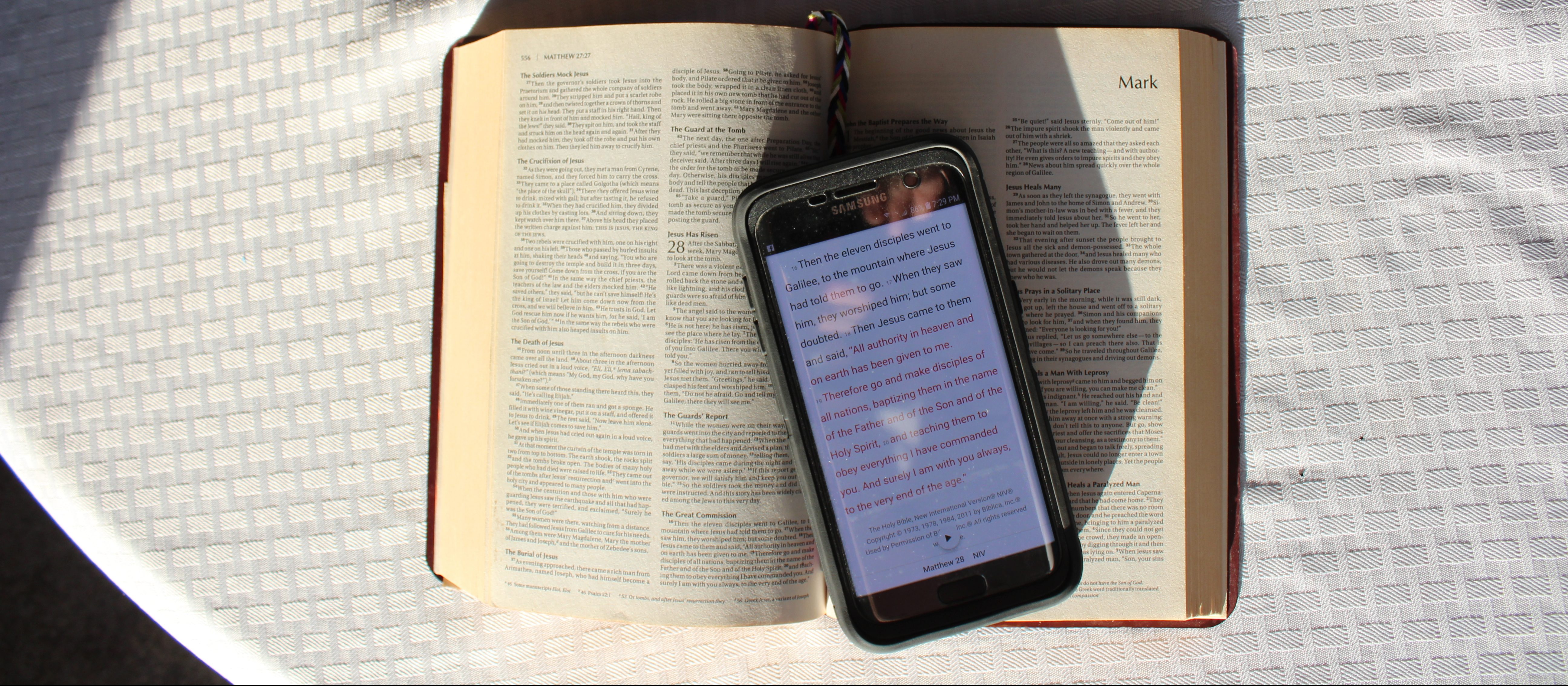 Interactive Online Bible Study
Interactive Online Bible Study
Connect to God's Word... Anywhere, Anytime!
Life can get busy and often it can be hard to squeeze in time for a traditional Bible study.  We've been there.  We understand.  Luckily, when life gets chaotic God always provides a way for you to connect to Him through His Word!
With our interactive online Bible study, you can connect to God's word every day while also taking part in quality discussions with people just like you!  We harness the power of the YouVersion Bible App (available on all smart devices) to bring you a wonderful Bible study every month!  If you have yet to dive into the world of smartphone technology, that's okay!  You can also be a part of the study on your home computer by going to Bible.com.  Access the study plan early as you start your day and be a part of the discussion any time you have a spare moment.  It is a great way to remain focused on the Lord throughout the day! 
We also encourage you to explore the other Bible studies available through the app.  Dive into God's Word with us through our interactive online Bible study and find the love and peace you've been longing in this busy world!
Dive Into God's Word With Us!
Join This Month's Interactive Online Bible Study!
Listen to God's Voice
In your busy life, do you hear God talking to you daily or weekly? Are you listening for God's voice each day? In our daily lives, sometimes we get distracted and forget to listen for God speaking to us. Sometimes it's difficult to hear Him amidst the commotion we have going on in our lives. This month, we're going to try and figure out what may be keeping us from hearing God's voice. Then we'll determine how to quiet our lives so we can hear what God has to say to us and discern that it is God talking to us.
We invite you to join us this month as we explore several studies to help us "Listen to God's Voice". The first study will begin on Sunday, October 2nd. Please use the links below or the buttons to join each of the studies.
The online studies can be accessed through the Bible App or bible.com website, which are free resources. In addition to wonderful devotional/reading plans, they provide a verse of the day, and you will be able to read the Bible in a wide variety of versions. The Bible App is available in your app store on your mobile device or accessible online at www.bible.com.