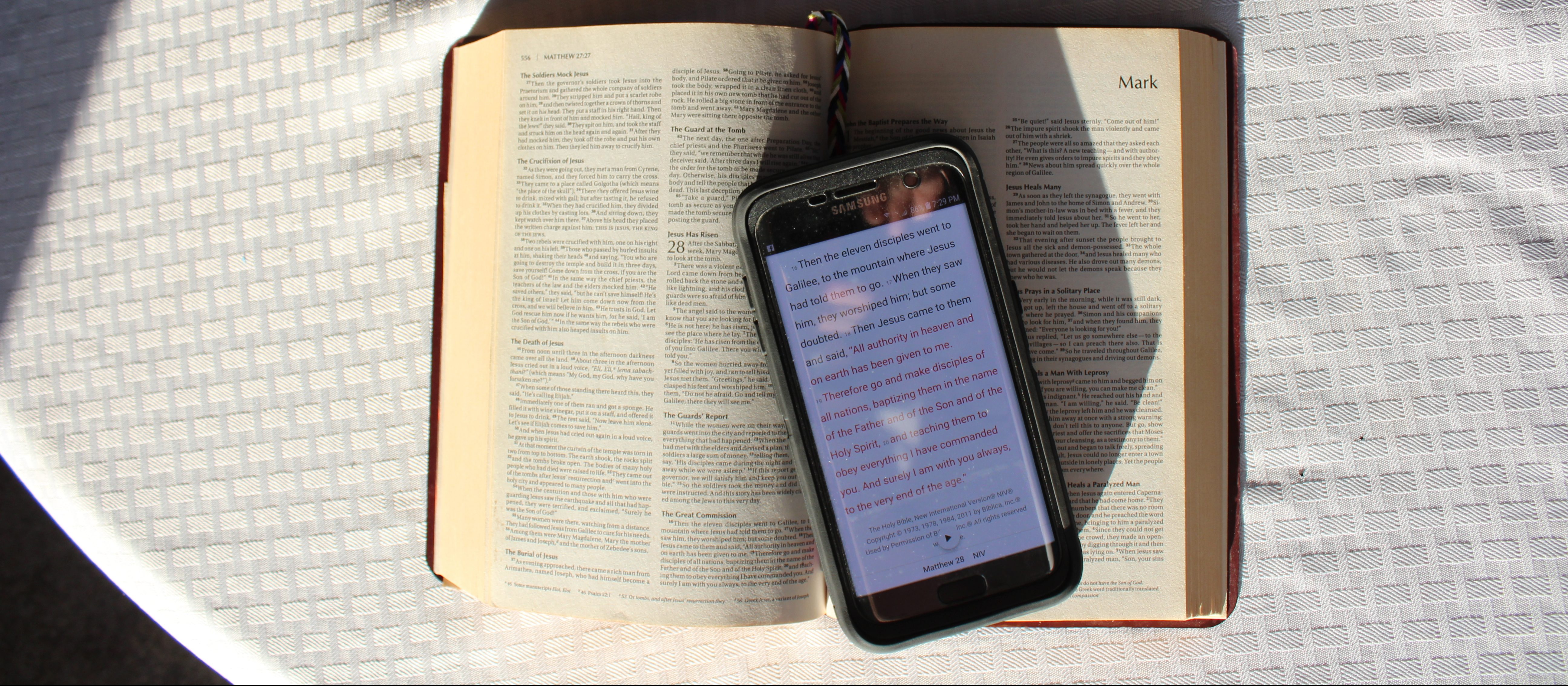 Interactive Online Bible Study
Interactive Online Bible Study
Connect to God's Word... Anywhere, Anytime!
Life can get busy and often it can be hard to squeeze in time for a traditional Bible study.  We've been there.  We understand.  Luckily, when life gets chaotic God always provides a way for you to connect to Him through His Word!
With our interactive online Bible study, you can connect to God's word every day while also taking part in quality discussions with people just like you!  We harness the power of the YouVersion Bible App (available on all smart devices) to bring you a wonderful Bible study every month!  If you have yet to dive into the world of smartphone technology, that's okay!  You can also be a part of the study on your home computer by going to Bible.com.  Access the study plan early as you start your day and be a part of the discussion any time you have a spare moment.  It is a great way to remain focused on the Lord throughout the day! 
We also encourage you to explore the other Bible studies available through the app.  Dive into God's Word with us through our interactive online Bible study and find the love and peace you've been longing in this busy world!
Dive Into God's Word With Us!
Join This Month's Interactive Online Bible Study!
Connect with God during a Season of Thanksgiving this November!
Thomas Merton once wrote that "Our knowledge of God is perfected in gratitude and thanksgiving."  This November, we are focusing on being thankful with a pair of online studies!  We will be utilizing the "Love God Greatly – Thanksgiving" and "Tranquil Meditations for Thanksgiving" studies through the Bible App and bible.com.  The scriptures and meditations within these studies are solemn moments for you to be still and set aside quiet time to express the grateful feelings of your heart.  Use these mindful times to rejoice and silently reflect over all God has done in your life.
We will start our season of thanksgiving studies on Sunday, November 7th with the "Love God Greatly – Thanksgiving" study, followed by "Tranquil Meditations for Thanksgiving" starting on November 19th and ending on Thanksgiving Day!  Use the links below to join the studies and be a part of our online study community!
"Love God Greatly – Thanksgiving" (Nov. 7–18): https://bible.com/p/46382243/739b4e1bd28d9303eac3f7e2d25e999e
"Tranquil Meditations for Thanksgiving" (Nov. 19–25): https://bible.com/p/46382281/55da3c10d664ae84959cae44a5c3d558
These online studies can be accessed through the Bible App or bible.com website, which are free resources. In addition to wonderful devotional/reading plans, they provide a verse of the day, and you will be able to read the Bible in a wide variety of versions. The Bible App is available in your app store on your mobile device, or accessible online at www.bible.com.